WHY WE DO WHAT WE DO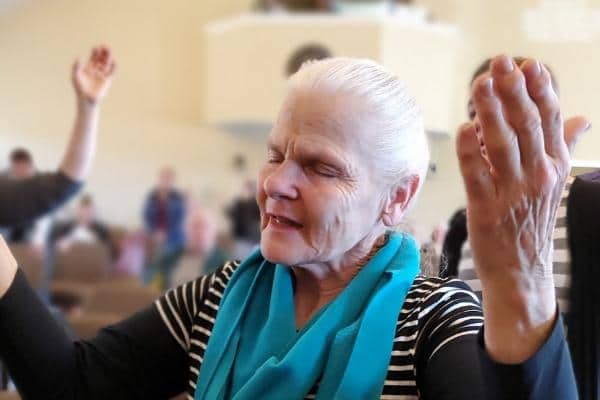 Why do we lift our hands?
Psalm 63:4 "Thus will I bless thee while I live: I will lift up my hands in thy name."Psalm 134:2 "Lift up your hands in the sanctuary, and bless the Lord."I Timothy 2:8 "I will therefore that men pray everywhere, lifting up holy hands, without wrath and doubting."
Why do we clap our hands?
Psalm 47:1 "O Clap your hands, all ye people; shout unto God with the voice of triumph."
Isaiah 55:12 "For ye shall go out with joy, and be led forth with peace: the mountains and the hills shall break forth before you into singing, and all the trees of the field shall clap their hands.
Why do we dance before the Lord?
Psalm 149:3 "Let them praise His name in the dance: let them sing praises unto Him with the timbrel and harp."
Psalm 150:4 "Praise Him with the timbrel and dance…"
Exodus 15:20 "And Miriam the prophetess, the sister of Aaron, took a timbrel in her hand; and all the women went out after her with timbrels and with dances."
II Samuel 6: 16 "And as the ark of the Lord came into the city of David, Michal Saul's daughter looked through a window, and saw King David leaping and dancing before the Lord; and she despised him in her heart."
Why do we have this type of worship?
John 4:23-24 "But the hour cometh, and now is, when the true worshippers shall worship the Father in spirit and in truth; for the Father seeketh such to worship Him. God is a Spirit: and they that worship Him must worship Him in spirit and in truth."
Why do we sing hymns and choruses?
Ephesians 5:19 "Speaking to yourselves in psalms and hymns and spiritual songs, singing and making melody in your heart to the Lord."
Colossians 3:16 "Let the Word of Christ dwell in you richly in all wisdom; teaching and admonishing one another inpsalms and hymns and spiritual songs, singing with grace in your hearts to the Lord."
Why do we pray together?
Matthew 18:19 "Again I say unto you, that if two of you shall agree on earth as touching any thing that they shall ask, it shall be done for them of my Father which is in heaven."
Luke 1:10 "And the whole multitude of the people were praying without at the time of incense."
Acts 4:24 "And when they heard that, they lifted up their voice to God with one accord, and said, Lord thou art God, which hast made heaven, and earth, and the sea, and all that in them is." Why do we pray aloud?
Psalm 5:3 "My voice shalt thou hear in the morning, O Lord; in the morning will I direct my prayer unto thee, and will look up."
Psalm 55:17 "Evening and morning, and at noon, will I pray and cry aloud: and He shall hear my voice."
Why are musical instruments a part of our worship?
"Ps 150:3-5 "Praise him with the sound of the trumpet: praise him with the psaltery and harp. Praise him with the timbrel and dance: praise him with stringed instruments and organs. Praise him upon the loud cymbals: praise him upon the high sounding cymbals."
Why do we sometimes weep in worship?
Psalm 126:6 "He that goeth forth and weepeth, bearing precious seed, shall doubtless come again with rejoicing, bringing his sheaves with him."
Ecclesiastes 3:4 "A time to weep, and a time to laugh, a time to mourn, and a time to dance." Luke 6:21 "Blessed are ye that hunger now: for ye shall be filled. Blessed are ye that weep now: for ye shall laugh."
Joel 2:17″ Let the priests, the ministers of the Lord, weep between the porch and the altar, and let them say, spare thy people, O Lord, and give not thine heritage to reproach, that the heathen should rule over them: wherefore should they say among the people, where is their God?"
Romans 12:15 "Rejoice with them that do rejoice, and weep with them that weep."
Previously Recorded Services
February 18, 2018
Pastor Cameron Cox preaches on Sound Doctrine during our service on February 18th. ... Watch Sermon
May 21, 2017
Pastor Cameron Cox preaches an incredible message on the topic of "Does God Know You?". ... Watch Sermon